SMO Services : Create Social Fan Following
Being a top rated smo company, AppCode Technologies has a track record to back a history full of achievements that are unparalleled. Today, Facebook, Twitter, Youtube, and Instagram are the most sought after social media networks wherein people tend to spend their time the most and we are the best smo services company, taking utmost advantage of social media optimisation tactics & techniques.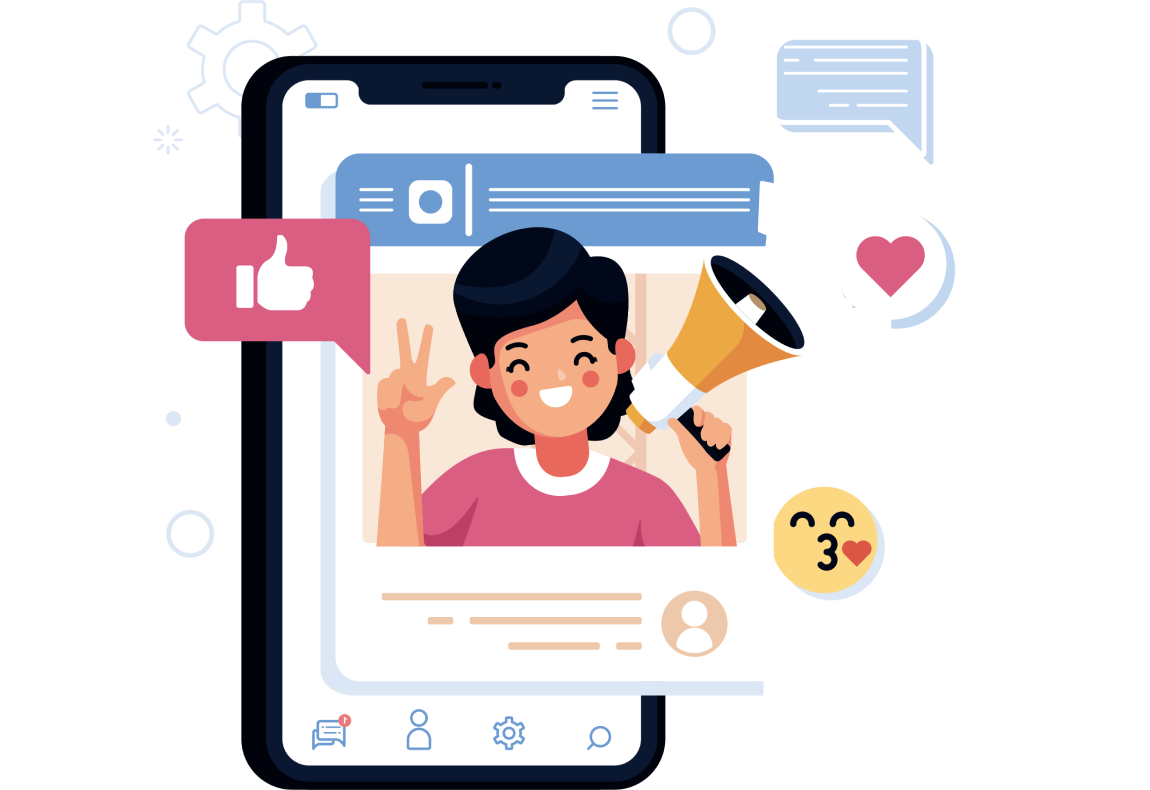 How Our SMO Services Will Provide Benefits To Business
Social media presence is one thing that every individual has, both on a personal and professional level, and hence getting seen over social networks is ideal to achieve sales and conversions. As a reputed smo service company, we know how to engage customers seamlessly.
Constant modification in strategies to outperform the competition
Extensive experience in delivering a wide range of content
Pre planned strategies & techniques suitable to all form of businesses
Increase quality numbers visits, shares, likes, and conversions
Improve search engine ranking
Create Social Awareness Of Your Brand Through Social Media Optimisation
Choose Us as your social media optimisation company by Calling us at +91-9650480888 or mailing us at info@appcodeindia.com
Lets Get Started
SMO Services : Let's increase presence on Social Media
We, a top smo services company, do not just stop ourselves by floating across the social media. We make constant trial and testing for finding out campaigns that work best for outperforming the competition and raising conversions. We like any other top smo agency, have an extensive experience delivering a wide range of content capable of connecting with customers to grow brand awareness and revenue in parallel.
Social Bookmarking
Online Product Reviews
Social Profile Listing
Linking All Your Social Media Accounts
Viral Marketing
Social Event Marketing
Social Media Integration into your website
Audio and Music Sharing
Blogging
RSS Feed Promotion
Widget Strategy Development
Social Media Accounts/Profiles Customization
He got the portal stable & is being developed under his able guidance. He and his team took all the pain, conceptualized, designed & got them worked. I strongly recommend Mr. Sandeep Srivastava of AppCode Technologies for all future requirements. I wish them all the very best for their all future endeavours AppCode Technologies is an excellent technology partner for us.
Rahul Chauhan | Founder | RoomsXpert.com
Sandeep Ji gave a shape to my idea of "SECONDBUY" mobile app and take it on new heights. I appreciate his thinking on mobile app development. I also appreciate his team which has in depth knowledge to bring the ideas to reality. Today "SECONDBUY" mobile app is flying due to their dedication. I highly appreciate & recommend the AppCode Technologies Pvt. Ltd.
Anil Yadav | Director | Secondbuy Tech Pvt. Ltd.
I, SANJIV DHIR Director of Azure Collections highly recommend Mr. Sandeep Srivastava of Appcode Technologies Pvt. Ltd. for their capability in web development, mobile application development and as a software technology partner for all your website & other software development needs. We wish Mr. Sandeep Srivastava all the best in their future endeavours.
Sanjiv Dhir | Director | Azure Collections
www.appcodeindia.com
| KEYWORDS | AVERAGE IMPRESSIONS |
| --- | --- |
| Facebook | 252 |
| Instagram | 121 |
| Twitter | 6542 |
| Youtube | 12 |
www.appcodeindia.com
| KEYWORDS | AVERAGE IMPRESSIONS |
| --- | --- |
| Facebook | 252 |
| Instagram | 121 |
| Twitter | 6542 |
| Youtube | 12 |
www.appcodeindia.com
| KEYWORDS | AVERAGE IMPRESSIONS |
| --- | --- |
| Facebook | 252 |
| Instagram | 121 |
| Twitter | 6542 |
| Youtube | 12 |
Explore Our SMO Packages
We have developed suitable SMO packages to target all the social business requirements of your business
Identify Business Goals
Account Management
Analyze Your Audiences
Create a Content Strategy
Identify Hashtags
Social Trending
Create Social Media Calendar
SMO Services : Increase Outreach & Brand Reputation
Ready to elevate social awareness of your business? We got you covered with all the social media optimisation services expected from a top notch digital marketing agency. We build community base for... your platform by utilising social platforms and their popularity across worldwide users. We treat social media platforms as the best source to generate brand awareness & leads. Check our FAQs for some generally asked queries or simply contact us.
Read More
Social media platforms, such as Facebook, Twitter, Instagram, LinkedIn etc, have become the most visited sites on the internet. If you have a significant presence here, it might go a long way in advertising your business globally. This results in not just more traffic but better conversions also as this is not a direct selling but interest-based engagement.
Social media optimization is a natural extension of SEO. Search engine optimization helps you market your site through search engines while SMO strengthens your brand image across the high traffic social media platforms on the internet.
In order to social media success for sales is measured through combining social media reports with a tool like Google Analytics to track social media efforts are turning into sales.
You can run the campaign on Facebook to increase the reach more effectively. Your contents of social media page should be catchy and relevant to get more engagement. By posting engaging contents, and boost the campaign to reach more people, you can get more likes, shares on Facebook.
Video content is a separate zone for the thinkers and writers to assimilate appropriate content. Some optimizations instruments will help you get through the follower's zone in youtube. You can add watermark to your YouTube channel. This will keep in popping the brand name or whatever you have chosen from the settings, which in return will turn on the vision of the viewer.
Create Your Own Trend On Social Media Through Our SMO Services
Let's get started! Call us at +91-9650480888 or mail us at info@appcodeindia.com