Hire Developers Technology Expertise
AppCode Technologies vast technical knowledge as well as vertical and domain expertise make us understand business requirements faster and easily. Our strength lies in our familiarity with design, development, testing, integration and key process operation. We provide web development, mobile app development dedicated support on your project. Check their expertise below.
Hiring Our Developers = Flexibility
It's not always easy to find the right IT staff, particularly for IT businesses. It isn't the most cost-effective option too. Therefore, AppCode Technologies offer affordable rates to hire developers for web designing & development, mobile app development, digital marketing. Design, technology and usability – the cornerstones of any business success are used with perfection by our developers. We do not promise impossible results due to hundreds of factors within every domain yet strive and push ourselves working towards near to impossible goals.
Fixed Price
| | | |
| --- | --- | --- |
| For Whom | - | Early Startups to SMB |
| Size of Project | - | Small |
| Requirements | - | Define |
| Client's Control | - | Full Control |
| Flexibility | - | No |
| When to Choose | - | Project specifications are clearly defined and unlikely to change. |
| Rates | - | One Time |
Time and Material
| | | |
| --- | --- | --- |
| For Whom | - | SMB to Mid-Size |
| Size of Project | - | Small to Medium |
| Requirements | - | Evolving |
| Client's Control | - | Significant |
| Flexibility | - | Yes |
| When to Choose | - | The full scope of the project is unknown and requirements are likely to change. |
| Rates | - | Hourly |
Dedicated Resource/Teams
| | | |
| --- | --- | --- |
| For Whom | - | SMB to Enterprises |
| Size of Project | - | Medium to Large |
| Requirements | - | Evolving |
| Client's Control | - | Full Control |
| Flexibility | - | Yes |
| When to Choose | - | When seeking in-demand tech talent, replacements or gaps within the project team. |
| Rates | - | Monthly |
Build, Operate, Transfer
| | | |
| --- | --- | --- |
| For Whom | - | Funded Startups to Large Enterprises |
| Size of Project | - | Medium to Large |
| Requirements | - | Evolving |
| Client's Control | - | Full Control |
| Flexibility | - | Yes |
| When to Choose | - | Clients who want to build & manage affordable offshore remote dev teams with scalability. |
| Rates | - | Hourly/Monthly |
Our Developers Are Capable To Bring Any MAR-TECH Requirement To Reality
Choose Us as your Technology Partner by Calling us at +91-9650480888 or mailing us at info@appcodeindia.com
Hire Devlopers
AppCode Technologies offer a great deal of caring and sharing atmosphere to employees as any business can thrive in a win-win scenario by keeping employees happy and satisfied. Luckily we are surrounded by compassionate employees who show respect to one another and clients enabling our business to grow in an optimistic environment while transferring the same vibes to our clients as well.

Highly Cost Effective
Since we have you covered with a decicated support for the marketing & technology development it would turn out highly cost efficient for your project. With better control there comes lesser communication gaps and more productive support.

Latest Technology Development
Our developer have rich expertise in latest technologies and their sub version as well to support you with marketing technology solutions & services. We make sure our code passes all the quality checks and is well accepted by community.

Business Specific Developers
We enable our clients with flexible support to hire developers which helps them to scale their business requirements in a much better way plus turns out cost efficient as well. We prefer to onboard developers based on your business needs.

No Language Barrier
Our developers are well versed in native speaking languages, fluency with english and in depth knowledge of technical coding aspects to keep you updated about project. Therefore, we try to close all language related barriers & comminacation gaps.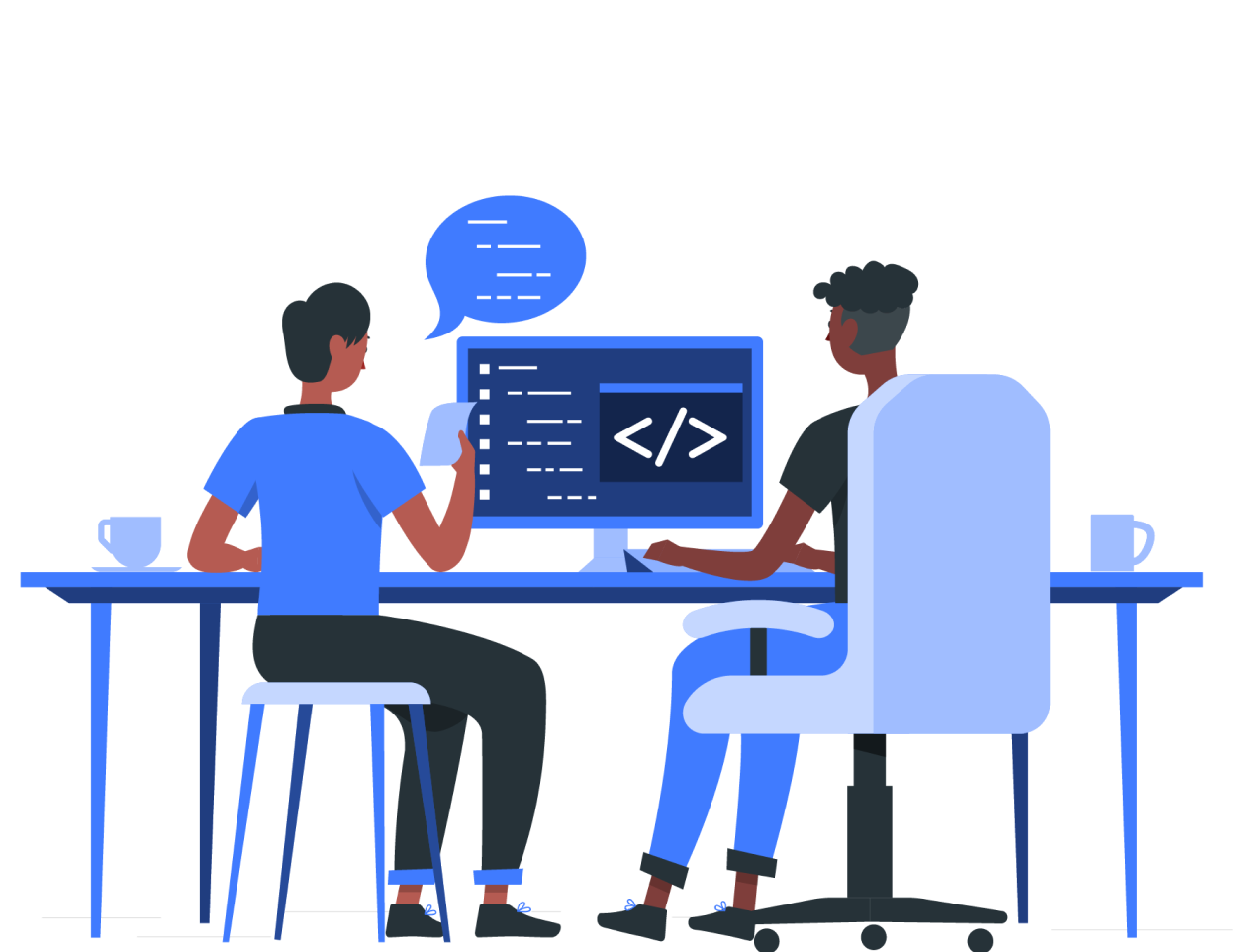 Hiring Developers Benefit on Your Project Development
Our power of flexibility helps us in developing intuitive, engaging and interactive platforms for our client's business. We always study in depth to understand the needs of our clients and select solutions from large pool of options available with us. Our developer are not only capable of developing technologically high end applications but also in a SEO friendly fully responsive manner to support all popular platforms. Our research team always look for new technologies so that we can meet new challenges with the evolving requirements of customers.

INNOVATIVE MINDS
With best innovative minds we create applications that perform

STRONG CODE KNOWLEDGE
Our have vast technical knowledge, vertical and domain expertise.

VERSATILE WITH REQUIREMENTS
We have developers who are totally flexible with the custom requirements as well.
Our Process
With strong roots in web and mobile app development we have build a standard process in our work and therefore while hiring developer we follow a process to maximize the efficiency of our developers and leverage the quality of your product simultaneously. We also offer flexible range to hire our developers to support our clients with their customised and flexible requirements.











Provide domain and tech experts to ramp up teams.
Implementation of best industry practices
Offers Domain-specific expertise to build niche software.

Fill gaps in your project needs at client's location.
Good understanding of business logics
Non-stop adoption and monitoring by our onsite developers

Developer's team providing development support.
Plan and release a successful apps & products.
Technical activities, monitoring & product improvements.

Hire our managers to work as per your project needs.
Complete project control & visibility into the progress.
On-demand onsite visits / presence of Android developers
Testimonials
Rahul Chauhan | Founder | RoomsXpert.com
He got the portal stable & is being developed under his able guidance. He and his team took all the pain, conceptualized, designed & got them worked. I strongly recommend Mr. Sandeep Srivastava of AppCode Technologies for all future requirements. I wish them all the very best for their all future endeavours AppCode Technologies is an excellent technology partner for us.
Anil Yadav | Director | Secondbuy Tech Pvt. Ltd.
Sandeep Ji gave a shape to my idea of "SECONDBUY" mobile app and take it on new heights. I appreciate his thinking on mobile app development. I also appreciate his team which has in depth knowledge to bring the ideas to reality. Today "SECONDBUY" mobile app is flying due to their dedication. I highly appreciate & recommend the AppCode Technologies Pvt. Ltd.
Sanjiv Dhir | Director | Azure Collections
I, SANJIV DHIR Director of Azure Collections highly recommend Mr. Sandeep Srivastava of Appcode Technologies Pvt. Ltd. for their capability in web development, mobile application development and as a software technology partner for all your website & other software development needs. We wish Mr. Sandeep Srivastava all the best in their future endeavours.
Our Associates


By Hiring Our Developers We Make Sure To Deliver Quality Products & Services Always
Choose Us as your Marketing Technology Partner by Calling us at +91-9650480888 or mailing us at info@appcodeindia.com
Lets Get Started
Hire Developer to Scale Up Your Project Fast
Well hiring a right developer that suits your requirements is a headache and takes long time as well to complete all the formalities and interview process. Therefore we are here to offer our best and technically strong team of developers to work with you and bring your ideas to reality. We offer web developers, mobile app developers & digital market experts to make your business grow.
There are numerous of features that we have implemented into our mobile application natively or customised as per the client's request. Few of them are – Account based functionalities, Social Media Tools Integration, Multiple Language support, Offline mode, Download and Upload files, AI, AR – Object detection and verification, Real Time synchronisation, Push Notifications, Barcode/QRCode scanning, in app Calling, Mailing, Messaging etc.
Changes in mobile app development is also termed as a way to grow, optimise and decide strategies based on the real time market response. Therefore in every growing mobile application changes as per the market environment are necessary. We follow a standard change request procedure. Here are the steps followed to tackle a change request - • Change Request Identification • Change Request Generation • Change Request Approval
YES. There are two type of documentation we provide. One is technical document which is based on the SRS (Software Requirement Specifications) standards. Another one is even more technical which holds a google sheet where every single technicality related to the project is maintained. The handover process consist of a code handover process where the client is given access to the code and credentials related to the project.
Have Flexible Requirements For Developers? We Got Your Covered.
Let's get started! Call us at +91-9650480888 or mail us at info@appcodeindia.com