Artificial Intelligence on Tours & Travels, Everything you need to know!

07 Sep 2020
Artificial Intelligence is introducing new innovations to almost all the spheres of life and so with the travel industry. It has improved the travel industry to a highly convenient sector. The notable innovations under which are as follows:
1. Personalised Episodes
Artificial Intelligence helps analyze unstructured data, brings value in partnership with Big Data and turns it into meaningful and actionable insights. Ongoing trends and our pattern of searches are combined using this data and presented as our future search suggestions to make it easier and convenient. Everything from the searches to bookings is customised and tailor-made according to your wants and needs. The discounts, schemes, tour packages, seasons to target and people to target are formulated using this data. Usually, surveys and social media sensing are done to know customer's insights and behaviour.
2. Productivity Boost
These tailor-made, readily available options help us reach our end result easily and within no time. This in turn gives a massive boost on bookings and searches as everything is so easy to surf and get through. And people in this time- consuming lives are no longer required to put in truckloads of their efforts in getting through their desired tour, trip or holiday. And not just the productivity of the travellers but even of the travel providers is enhanced due to the introduction of features like chatbots and robots to channel out the searches and other procedures. Thus, to avoid a repetitive process, artificial intelligence is of great application.
3. Enhanced Experience
The introduction of AI has proved to be a great boon in terms of customer services. AI makes booking travel easier, ensures that the travellers get the best price and helps them avoid inconveniences. AI, specifically machine learning, can make the whole experience more enriching through its ability to crunch data, see patterns, and recommend the optimal personalized experience–often in real-time. Not just this but to a traveller's amusement robotic bartenders and hotel staff is making their experience even more delightful, pleasant and effortless.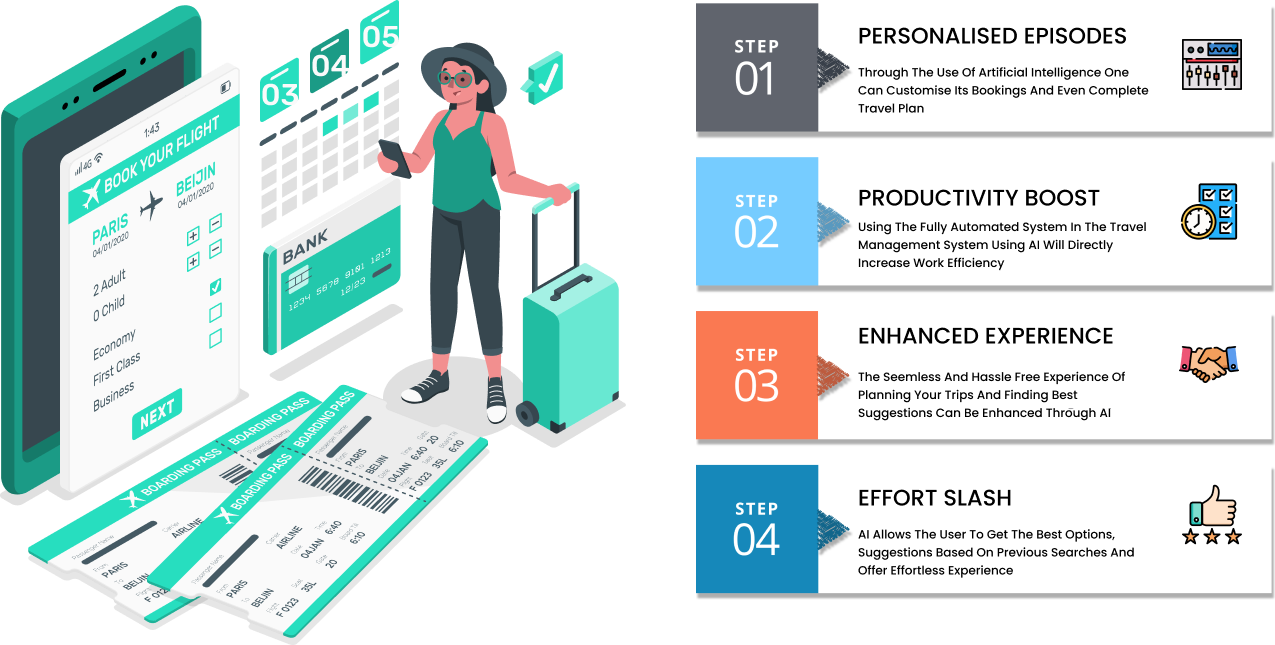 4. Effort Slash
Now be it searching the right destination, booking the luxuries or getting discounts everything is readily available before you even think of putting in efforts to fetch these. From booking flights, hotels and rental cars online at the lowest possible price to acting as a virtual assistant to help you plan a trip, there's no question Artificial Intelligence services has eased the way we travel.